July 12, 2023 – Kimball Midwest has earned its seventh straight appearance on an annual list of best companies to sell for.
Kimball Midwest is No. 19 on Selling Power magazine's 50 Best Companies to Sell For in 2023. That continues the company's steady rise on the list from No. 32 in 2017 to No. 20 last year.
"Attracting and developing the best sales team in the industry is critical to our ability to deliver the Kimball Midwest experience to customers across the nation," Kimball Midwest President Patrick McCurdy III said. "This recognition from Selling Power reinforces our commitment to being green and growing, both as individuals and as an organization."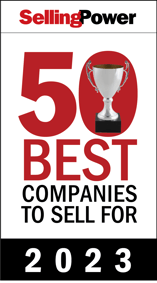 Selling Power's research team created a thorough application process during which they gathered data across four key areas:
• Company overview
• Compensation and benefits
• Hiring, sales training and sales enablement
• Diversity and inclusion
Companies were ranked in each of the categories above to determine the final list. The methodology is the product of years of research, and Selling Power continues to revise and refine the approach each year. The companies included are a mix of sizes ranging from medium to enterprise.
"The Best Companies to Sell For have mastered the alignment of people, processes and technologies and created a sales organization that excels in hiring, onboarding, training and compensation of their sales representatives," said Gerhard Gschwandtner, founder and CEO of Selling Power. "What attracts salespeople to work for these leading organizations is their great culture, their commitment to diversity and their steady support of the sales team by servant leadership that focuses on creating customer value and a meaningful work environment that offers unlimited opportunities to win."
Kimball Midwest is a family-owned national distributor of maintenance, repair and operations (MRO) products that has been providing superior products and superior service since 1923. The company services customers across the nation from its corporate office and distribution center in Columbus, Ohio, and distribution centers strategically located in Dallas, Texas; Newtown, Connecticut; Reno, Nevada; and Savannah, Georgia.