Columbus, Ohio – May 4, 2021 – Kimball Midwest has been named a Top Workplace for 2021 by Columbus CEO magazine. It is the ninth consecutive year the company has received the honor.
Seventy-seven employers in Central Ohio were recognized based on associate survey results. The anonymous survey measured 15 drivers of engaged cultures that are critical to the success of any organization, including alignment, execution and connection.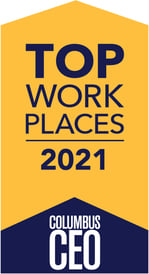 Kimball Midwest ranked 13th among large organizations, appearing alongside companies such as Cardinal Health, Discover and Aldi.
Here are a few of the comments shared by Kimball Midwest associates in the anonymous survey:
"I love the work itself, but I also love the company. I feel that my manager and department director have our best interests at heart and give me the support I need."
"I work with people who care about what they do and the people they work with. There is always a mindset of growth and getting better, and it's exciting to be a part of the growth."
"The company is focused on always improving, yet still encourages work/life balance. Because we are a growth-based organization, there are lots of opportunities for advancement. We have a lot of talented and collaborative people at the company, so working with them is a joy."
"I enjoy coming to work. I enjoy the opportunities I get to interact with my coworkers and the sales team in a low-stress environment."
"I feel genuinely seen and appreciated. I feel that I'm fairly compensated for my job, and I have the opportunity to learn and take on additional responsibilities, which I really enjoy!"
---
Kimball Midwest is a family-owned, national distributor of maintenance, repair and operations (MRO) products that has been providing superior products and superior service since 1923. The company services Sales Representatives and end-user customers from its corporate office and distribution center in Columbus, Ohio, and distribution centers strategically located in Dallas, Texas; Reno, Nevada; and Savannah, Georgia.